The Story
It marks the return of one of Royal Enfield's most loved classic motorcycles. Hailing from a time when all that mattered was that the California sun was out and the surf was up, the new Interceptor retains every bit of charm that made it a legend. Here is the story of its revival.
DEFINED BY SPORTINESS AND AGILITY.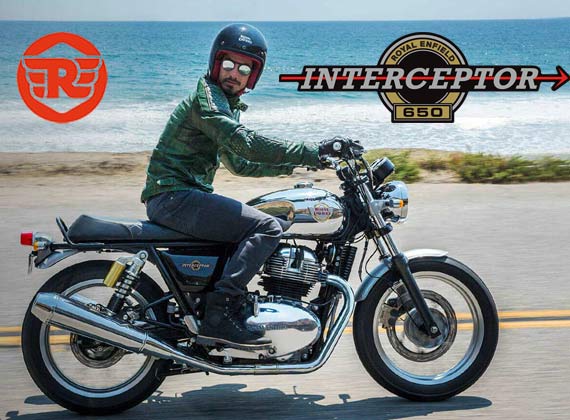 Royal Enfield
Inspired by the iconic 60's Interceptor with its greatest following in the American west coast, fitting perfectly into the easy-going, fun narrative of the time, the new Interceptor 650 Twin reimagines the sun-drenched California beach lifestyle. This modern classic is the essence of a British roadster with a dash of a California Desert Racer blending timeless style and contemporary performance.
2017
The new 650cc Royal Enfield Interceptor and Continental GT twins are unveiled at the EICMA Motorcycle Show in Milan, Italy, and at Rider Mania in Goa, India.
TRUE TO YOUR RIDE.
Make your Interceptor 650 your own with Genuine Motorcycle Accessories
Testimonials

" I was wasting my time watching motorbikes tear up the hill all day, when the best bike in the world was sat here all along!", remarked a spectator at Shelsley Walsh, before going on to ask a dozen questions about Royal Enfield's new Interceptor 650. You see, you just can't go anywhere without the Interceptor drawing a crowd. Petrol stations, cafés, local shops, even stopped at traffic lights, it'll be charming anyone who so much as even glances at it."

"Designed to appear as a classic but with refined, stylish, minimalist lines, the Interceptor offers easy and manageable motorcycling with appeal to A2-licence holders. With the expected price tag in mind (for now), on offer is a classy ride from a cracking chassis coupled with an engine that's smooth, receptive and beautifully fuelled, the Royal Enfield resurgence led by the two 650 twin cylinder bikes is firmly underway."

Go straight to your
Interceptor
The Royal Enfield Interceptor demonstrates its sporty origins on the road. You too can now experience driving dynamics of the superlative class.
Subscribe to our Newsletter!